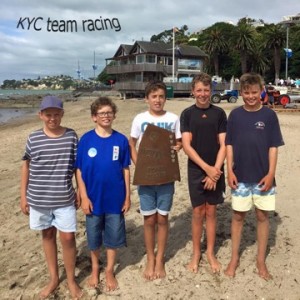 Kohimarama Yacht Club hosted the annual Junior Sail Auckland Regatta over Waitangi weekend (Feb 6th – 8th). Although KYC is the regular venue for this big regatta, this year the scale of the regatta was even larger. Extending the regatta out to three days of sailing was adopted to accommodate the Optimist pre-nationals along with the National Optimist Club Teams Racing Championships. The regatta also served the 420's as their North Island Championships. Close to 180 yachts in seven classes, over 3 courses took part.
What a weekend!
The weather provided a few challenges, but feedback was that this was a well organised and run regatta. The event was enjoyed by sailors, parents, race officials and KYC members alike.
Congratulations to all our KYC sailors, especially those who competed in their first regatta. Our sailors placed in the top 3 in a number of classes:
Green fleet:   2nd Michaela Strong, 3rd Charlie Morton
P Class:   1st Sasha Barrett-Garnier, 2nd Hugo Meachen
29er:   2nd Seb Lardies/Scott McKenzie, 3rd Lewis Anderson/Pat Morgan
KYC won the Optimist Teams Racing Championships for the second year running, in a final against the Worser Bay team. Congratulations to team members; Gavin Ninnes, Monty Alderson, Toby Nathan, Nathan Vince and Luke Cameron-Smith.
A huge thank you goes out to everyone involved in the regatta. From those on the committee who have been planning this event for months, to the race officials, judges and the team on the water laying and running the courses. Also thanks to those on shore launching boats and managing on shore/beach activities. Thanks to all of those on catering, running the galley and making lunches early in the morning. It was pleasing to see all the parents and volunteers who pitched in and did their bit, however large or small, to make the event successful.
A special thanks to all our sailors for representing KYC so well both on the water and off. A special mention must go to Bruno Barrett-Garnier for his organisation and efforts over the weekend.  To Jason Morgan who excelled in his his role as the Principle Race Officer.  To Sarah Winter, Jen Bilkey, Michael Shirley and Dean Murray for their work in the galley and keeping us all fed, hydrated. Craig Loomes was outstanding in managing tractors and ensuring that all the RIBs were in good order. Finally thanks also to Clare Morgan and Sarah Hume who were faultless in managing the results office. It was great to see the rapid publishing of results on-line
Well done everyone!
With the upcoming Optimist Nationals being held at KYC over easter, we are confident that we will be able to call upon everyone's assistance to put on another great regatta.