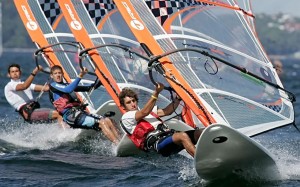 Kohimarama Yacht Club welcomes youth windsurfers of all ability levels with emphasis on the globally-recognised racing classes of Techno and RSX. The Techno is the international youth racing class for under-15s and under-17s. The RS:X is the Olympic class board on which Tom Ashley won gold for New Zealand at the 2008 Olympics in China. Also check out Kate Ellingham's and JP Tobin's achievements.
Techno / Windsurf Rep
Our Club Techno class rep – Louise Matulovic – l.matulovic@clear.net.nz
World Wide Windsurf Racing for under 17's
The place to start – the beginners windsurfing class is known as the Techno class because the board, sail and rig used is common throughout the world, the T293. Simply put, the Techno is seen as the "Optimist" of the windsurfing classes. one board one design sail one design rigs feeder to all international windsurf classes approved "Olympic Pathway"
How do I get started?You need your own board, sail and rig (Techno preferred) to get on the water along with a suitable PFD. Equipment advice is available from our class rep or at Windsurfing South Pacific in Barrys Point Road.Real beginners should complete a minimum 10 hours windsurfing coaching at a suitable windsurf school – we recommend Madloop Windsurfing at Lake Pupuke, Takapuna. This is essential before you start windsurfing on the sea.
What training is available?When 3 or more sailors are registered, we will run club training on Sunday mornings. Contact the class rep for more information.
What about Racing?We run club racing on Sunday afternoons, first race at 1.30pm at the club just off Kohimarama beach. Organised racing on the North Shore also Sunday afternoons currently organized between Murrays Bay and Manly clubs. More info from the class rep
Competitive Techno RacingThere are lots of regattas throughout the season where you have lots of opportunities to sail along with and compete against other Techno sailors. For more details please refer to our club calendar.
EquipmentMaximum value for minimum cost! The great thing about the under 17 windsurfing class is that there is only one board and rig combination from a single manufacturer, Bic Sport. This makes your equipment selection very simple and ensures you meet all rules and (if you choose) compete on a completely level playing field.
The RS:XThe RS:X is the Olympic class board. Affordable, high tech rig able to be sailed in 3-30 knots. Racing is exciting, close and great for all conditions. It's a new class, first produced in 1995 and growing fast. Recent Perth Worlds showed a large number of highly competitive sailors from around the world, including J.P.Tobin and Tom Ashley from N.Z. There's even an U17 and U19 division for competitive racing so move up and aim for international!